Brookline College Faculty Spotlight: Abby Sotelo, Medical Assisting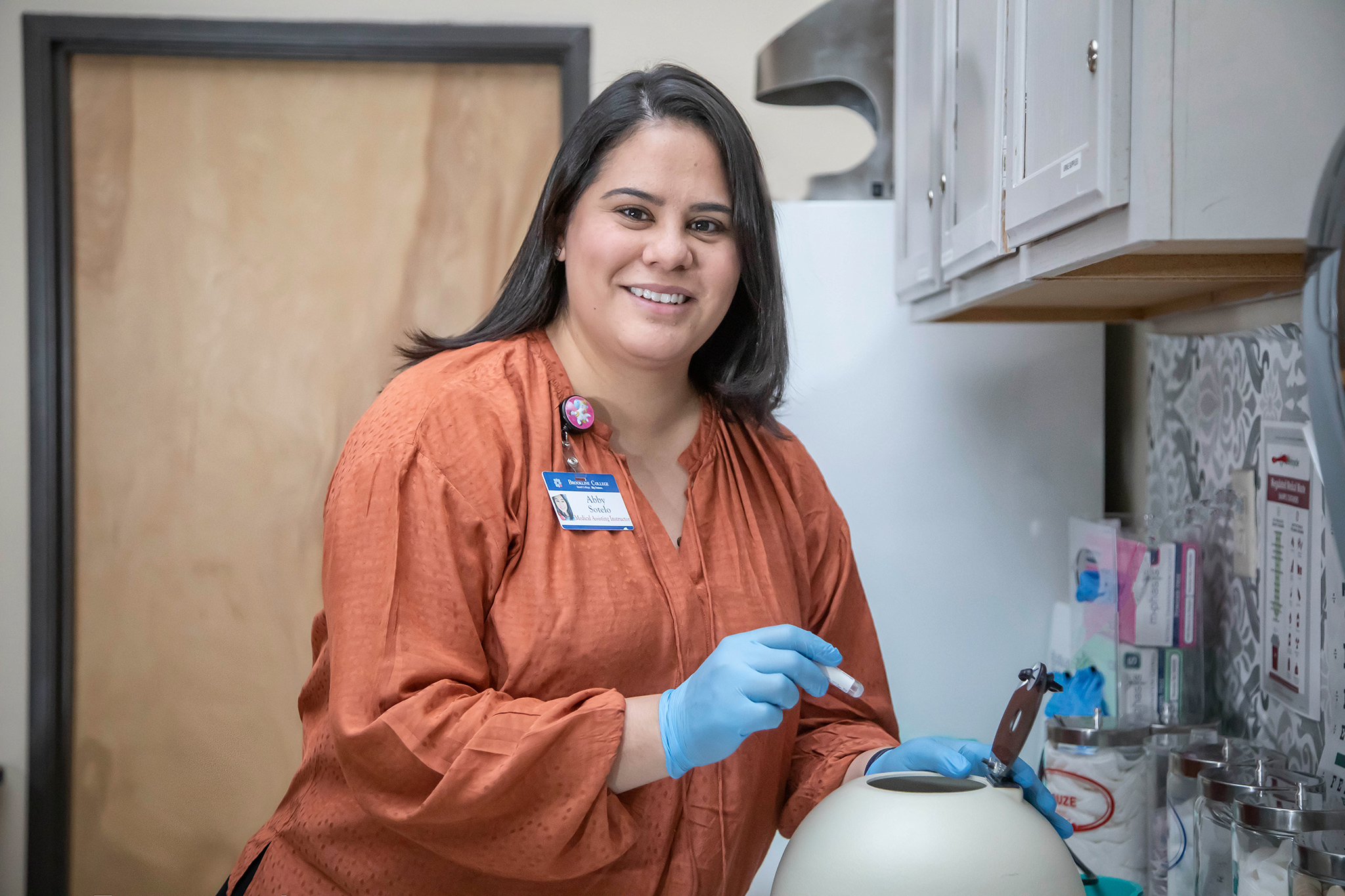 Abigail "Abby" Sotelo has taken her career as a medical assistant to the next level; since September 2019 she has been teaching medical assisting at Brookline College in Albuquerque—and she loves it.
A certified medical assistant since 2012, Sotelo says, "I decided I wanted to give teaching a shot, and I've really enjoyed it. It's a lot of fun." She needed to become a certified instructor first, and now she's going full throttle, teaching the nine-month diploma program that has students in class four hours a day, four days a week.
"When students first get there [in class], I usually let them spend about a half-hour doing vitals on each other, as that's one of the most important things they're going to learn," she says. The next part of the day is lectures, followed by what students enjoy most: doing labs. "They learn how to draw blood, give immunizations, perform various types of tests – it's very hands-on."
Like students anywhere, Sotelo says, "I get the most complaints about homework and the reading material. It's kind-of heavy because at Brookline we do five weeks for each course, so it becomes a lot for them to absorb." It's necessary, however, because the job of a medical assistant requires versatility in both clinical and administrative duties.
Medical assistants are also required to administer medication and prepare prescriptions for the doctor, who then signs off on them. "You have to have a basic understanding of medications, side effects, what the medication is for, how it could affect a patient," she says. "I know while I was working out in the field I wrote hundreds and hundreds of prescriptions."
Charting is a big part of a medical assistant's job, and Sotelo gives her students lots of practice. "I have them do patient intake, which includes getting histories, making medication lists, allergies and, of course, doing their vitals," she says. "Also, if they are going to perform any tests or procedures, I show them how to document that, do requisition forms for reference laboratories, collect specimens and properly label and fill out those forms to send off to labs."
Additionally, medical assistants need to have good communication skills because they often need to deal with outside facilities and insurance companies. "Any time a patient needs surgery or any kind of radiology, either outside of the office or even inside the office, we have to obtain prior authorization," she says. "So social skills are key when you're talking to all those people."
Although most of her students are female, Sotelo has two males in her morning class. "Women have forever been the caretakers, but I have found that the males in this field are very compassionate," she says, "and they're understanding versus where I think we've built up that 'suck it up' attitude. They listen more."
Medical assistants can specialize in certain areas, such as pain and spine, where Sotelo worked, or pediatrics, oncology, orthopedics, emergency rooms, urgent care offices and more. It can also be a starting point for another healthcare career. "I currently have a student who wants to become a physician's assistant," she says. "When you look at requirements for even being accepted into the school, medical assisting is one of the big requirements for that."
The major reward for Sotelo? "I kind-of enjoy the 'lightbulb moment' when you're teaching these students how to do a skill or we're reviewing things and they get it. I love seeing that in them," she says. "All of Brookline's instructors are so caring. We encourage a lot of success. We have open-door policies when the students are struggling."
The job outlook for medical assistants is particularly encouraging, Sotelo says. According to the Bureau of Labor Statistics, job growth between 2018-2028 is 23 percent, which is much faster than average. In New Mexico, O*NETOnline expects there to be 640 new jobs each year between 2016-2026. "Here in New Mexico if I search for a medical assistant, there are so many jobs. I get two to three job postings a day in my emails."
That's good news for anyone considering a career as a medical assistant. "It is one of the most rewarding jobs that I've ever had," Sotelo says. "I love taking care of people. It fulfills me."
If you think medical assisting may be the career for you, contact Brookline College.
https://www.brooklinecollege.edu/wp-content/uploads/2020/12/blog-hero-0227.jpg
1365
2048
smiles
https://www.brooklinecollege.edu/wp-content/uploads/2020/11/brookline-college-logo.svg
smiles
2020-02-28 10:30:28
2022-09-29 10:41:39
Brookline College Faculty Spotlight: Abby Sotelo, Medical Assisting